Have you come across something named GetPaid.Social lately? What is GetPaid.Social about? is it a scam or a legit opportunity? Can you make a lot of money and is it worth your time? These are the questions we are going to get answers to in this review.
Product: GetPaid.Social

Website: www.getpaid.social
Owner: Jeff Long
Price: $0 Free
Who is it for: People who wants to perform simple tasks online to earn money
What is GetPaid.Social about?
The GetPaid.Social is a brand new website, that (for the moment) is free to join, and start earning money at. It was launched November 10 (2015) and The community has already over 30,000 members!
What you will be doing here is paid social media jobs mostly, but there is also going to be surveys to complete (if you want).
You will be given tasks everyday, only easy things like: watch a youtube clip, like a facebook page, follow someone on facebook, follow someone on Twitter, etc.

For this you will get paid, and this you can start doing for FREE without any hidden fees (or catches).
You can also (if you want) invite others to GetPaid.Social and you will make money that way to, you will get 10% from what they make everyday! "You will also get 10% of the service that the business owners buy! If you have invited this business owner to GetPaid.Social!"
There is also paid memberships to consider if you like this idea, the benefits of having a paid membership is simply that your earnings will be bigger.
But it is FREE to sign up and start earning money, you do NOT have to pay anything att all for doing this. You can of course, IF you want, always upgrade later.
How does it work?
The GetPaid.Social website is made so business owners can get help to improve their social reach, following, exposure, engagement, etc..
How it works is that business owners are buying tasks from GetPaid.Social and the members of GetPaid.Social complete the tasks.

Everyone get´s happy and everyone get´s paid.
For example if you have a business you would like to have a lot of followers on social media, right? It is going to help you reach a lot more people with your services or products.
If you have a business and want to have things done, then you can of course become a member of GetPaid.Social to and create tasks for other "working" members to complete for you.
It is really that simple!
To the right you have a screenshot from inside of the membersarea. It has a very simple design and is very easy to understand. At the bottom you can see that GetPaid.Social already has 33,650 members!
Why you should/should not do this?
This is actually a good idea!
However, I would recommend you to go with a more stablished and well know site that allows you to do pretty much the same things. Because you never know with this new sites… So, my best advice would be to go with one that has been around since 2007. The one I talk about is, of course: Clixsense
I can actually don´t see any cons of this, (atleast not yet). Me myself became a member today and I will be doing this for some time (the tasks takes no time at all to complete).
Below is a screenshot of some of the task I have got today: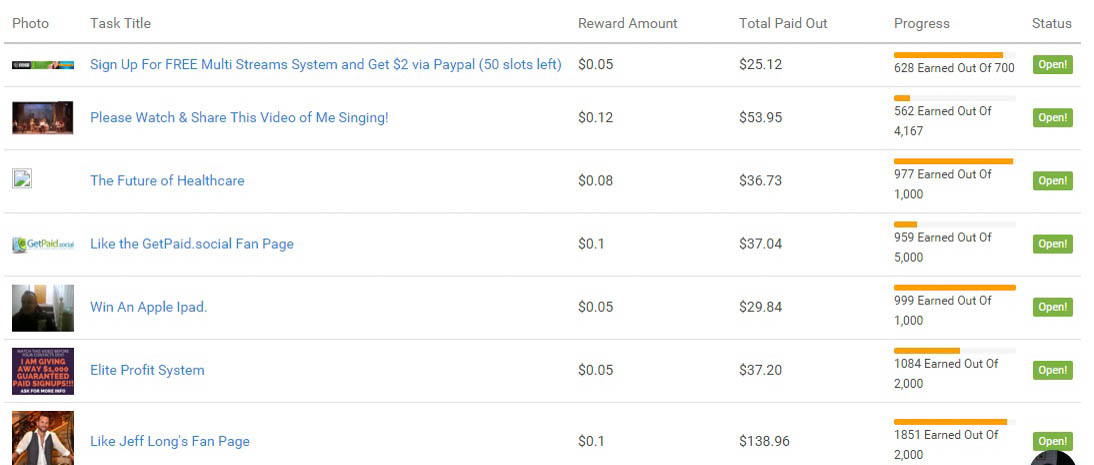 It is not big amounts (I am a free member) but it is not hard work either so that is probably fair.
I mean… to like a facebook page, and follow someone on Twitter don´t even take a minute. All this tasks together might take 5minutes, and for that you will earn $0.60
I checked back 30minutes later, and there was 6 new tasks to complete (all of them fast and easy ones) and they was going to give me $0,71!
Seems like you can be doing this all day! And it is FREE, so it is a great opportunity!
I really hope this site will be around for a long time! :o)
Worth to mention: I can not do any of the tasks, because I am a free member and ALL free members are going to be able to complete task from Monday the 14 december. This is to allow the premium marketing partners the time they need to create and setup their tasks for you (and me) to perform!
Update 18/12 2015
I have now been a member at Getpaid.social for about a week, I have shared my links on Facebook, Twitter and Google+ and I have managed to get some refferals in this short period of time, I have also made some money…

It might not be much, but I will update more when my earnings start to grow. Also, this is only for the referrals, not the tasks. The money I have made with the task is not much, it is about $4, but I have also not doing so many.
Final words and Verdict:
Verdict: Legit! (But NOT Recommended)
Overall ranking: 5/10

I don´t know yet if this can make BIG money, but I guess time will tell.
Inside of the membersare there is a (top 100) leaderboard of members who have been most active. Some of them already have earnings over $1,000 so it is definetly not bad!
The reason I don´t show their names and faces is simply because I don´t know if I am allowed, to do that… But you can take a look yourself as soon as you have signed up as a free member.
Maybe I change the rating to a higher one later, or maybe I lower it.. But for now I have to give it a fair rating, and 5/10 seems fair.
But for now, I think this is an ok opportunity, it is actually a decent chance for ANYONE to make money, you DON´T even need to recruit other people (if you don´t want of course) and you don´t need to sell ANYTHING.
It doesn´t get easier than this. That´s for sure.
It is also free to join..
I mean how many of you are just wasting time online everyday on Facebook, Twitter, Instagram, Snapchat, etc… I mean you can actually make money with snapchat now.
What if you got paid a few cents, or even a few dollars to do things like this:
Liking a Facebook page
Liking a Facebook post
Sharing a Facebook post
Visiting a website
Watch a YouTube video
Follow someone on Snapchat
Leave a comment
Etc.
These are just examples.
Well the year is 2015, soon it will be 2016 and now this things are actually possible! And it is free :o)
ANYWAYS…My recommendation would be to go with a simmilar but A LOT more established site instead that has been around for a long time:
I hope you liked this short review of GetPaid.Social and now you should know what it is and how it works! If you have any questions about this review ask in the comment section below!
Please leave a comment!
Also, be social and SHARE! (Many of your friends would probably want to take a look at this).
Thank you for reading!
I wish you the best and a lot of success!
John
Founder of: Start Make Stop Waste
UPDATE! JANUARY 10 (2016)
I have got questions in the comments, to prove that I actually have got paid from GPS and I promised to show proof here so… here it is: a screenshot from my PayPal account after my first month as a member… No BIG money, but I cannot say that I have spent much work on it either… So it is very welcomed 🙂