Todays short review is about a new site online named BitMony. What is BitMony all about? Personally, I am so sick and tired of these bullshit programs that just keep coming, so in this review let´s uncover once and for all how this type of scams work. It is another one of those "safe investing" sites that just keep coming online. Is it a scam? Is it a Hyip or Ponzi scheme? Can you make money with the program? These are some of the questions we will focus on.
Review
Product: BitMony
Website: www.bitmony.com
Owner: No info found about this (NOT a good sign)
Price: Depends on how much you invest
Who is it for: People looking to invest but are totally uneducated in the subject.
Overall rating: 
(0.5 / 5)
What is BitMony about?
Ok, this exact text can be found on the BitMony website:
We place capital according to the program that assumes having diversification in three focus areas. We work with the most stable and verified ones: Forex Trading and Stocks Trading. Besides, in order to increase the profitability horizon, as well as to stabilize the return level, we use investors' finances in deals in the real estate market as well. Distribution of funds of our investors among these focus areas allows not only to significantly reduce risks, but also to increase the profitability of the investment portfolio.

Our strategy allows to work with small and huge amounts of private investors, and effectively consolidate the funds under our management. Therefore, other than the presence of the verified and tested strategy of trading in the Forex market, Stocks and Property trading, we also have access to unique mechanisms of finance management.
What the h**l do that really mean?? Anyone?
Access to unique mechanisms of finance managment to reduce risks??
Sounds like a bunch of hyip and ponzi bullshit to me.. Anyway…
Continue reading to see how these things work.
How does it work?
It is simple, you register, you invest and then you just sit back and wait for 40 days and get a total of 140% return rate.
Wow! Sounds awesome… and very unrealistic and unsustainable… It might work for a short amount of time though…

Can you make alot of money?
The answer to this question is impossible to answer right now as there is no way to know if the program will survive for even 1 month. It all depends on how many new members joining the program and how much money is comming in…
…and more importantly, how much is going out… Continue reading to understand what I mean.
Is BitMony a scam?
So, is BitMony a scam? Well, I would absolutely call it a hyip/ponzi program. <== (Read what a Hyip and Ponzi scheme is)
In fact, they are actually admit it in the FAQ section on their website. (Se screenshoot below)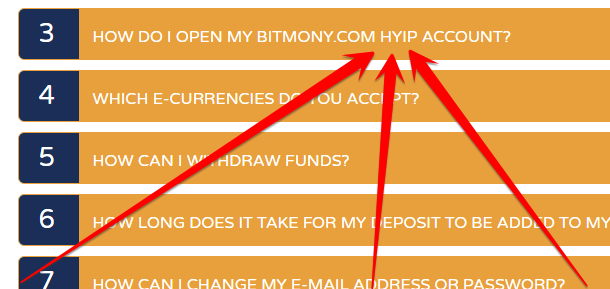 In my opinion those are scams (not everyone agree on this). One thing is d**m sure though, BitMony (and any simmilar site) is a HUGE risk to loose everything you invest.
It is not IF the program will crash, the question is WHEN.
You should always do your research when you are thinking about joining some kind of investment program online, my advice is that if you find more than just a couple of negative reviews that you really start questioning to join at all. You made a smart chooice reading this review, read below how this kind of programs really work.
How this type of scam work
The BitMony website has been online since Mars 8 – 2017. That is 18 days, so it is still super new and that means that people are putting money into it right now, as it will take 40 days before you can cash out (IF you can) any money, then (maybe) the program will have enough money to pay out "hopefully".

The thing is, these typ of programs (hyips and ponzis) are only working for as long as there are more money comming into the program than are going out from it.
So that means that the return rates are being paid back to you with other members money, this will "work" for as long as there are new members comming in and putting money into the big "sharing pool"
The question is not if it will "dry out" and make the whole thing crash but WHEN.
…And when that happens nobody will be able to cash out anything.
Why You Should (or should NOT) join bitmony?
If you are a super risk taker that doesn´t care if you loose it all, then go ahead. Just don´t come back here and tell me I didn´t warn you.
However, if you are tired of this nonsense just like me then I strongly suggest you go with a legit Bitcoin investing site instead. The absolute best one I can recommend is Bitbond and has been online for many years now and is 100% legit.
Click here to read more about how Bitbond works<==
Final words and verdict on BitMony
Verdict: (Huge Scam Warning!)
Overall rating:
(0.5 / 5)
Ok, I think I have made my point pretty clear on this one, stay far away from it and all the simmilar "investing opportunity" sites out there, if the return rates are unrealistic then stay away from them.
That is not something that will be safe and solid.
In the end it is of course up to you, this review and many others on this site is mainly made to educate and help people that (most times) aren´t aware on how things work online in these kind of subjects.
It can be easy to jump on things like this one and the reason for that is probably because they many times come out as something "bulletproof" and safe and solid… and of course very lucrative..
This is a good moment to bring up the good old saying " when something sounds to good to be true it most likely is"
If you want to invest into bitcoins in a safe and solid way read below.
Safe Bitcoin Investing?
The scams are literally everywhere online, I have made a ton of reviews on a ton of them. However, it is important to understand that not everything online is a scam. There are real and legit investment sites online that has also been online for many years and pays back great but not unrealistic returns. I have a few of them listed on this site, the absolute best one I know of is Bitbond. It is a great company with a very easy to understand process to invest.
I hope you found this short review of BitMony to be helpful and now you should have a better understanding about what it is and what it is all about. If you are an active investor please share your experience in how everything goes… as it can help other. Also, if you got any other questions about this review I will be more than happy to answer them below.
I wish you success!
John
Founder of: $tart Make $top Waste