Today we review BrightEdge.com for you. What is BrightEdge? How does it work? What do you get from using it? Is it for you or should you look at the alternatives? This is just a few of many questions this review helps you answer!
Name of the product: BrightEdge

Official Website URL: https://www.brightedge.com/
Overall Rating:
(4.4 / 5)
Recommended? : Yes
P.S.
Learn about my #1 recommended (if you are on a lower budget) SEO tool on this page (+ Get a 10% Discount coupon code on ANY plan you choose)
Or,
Learn about my #1 recommended SEO solution (if budget is not an issue for you) on this page
Intro
BrightEdge is a company that offers its services and products and then goes ahead to engage its customers all through their journey. This has led to those who rely on this company achieving the desired results. The software offered by BrightEdge (known as BrightEdge) has due for this reason gained a lot of popularity in the market. In this review, we shall be analyzing this software to establish whether it delivers what its creators claim, by addressing the following issues:
What is BrightEdge?
How does it work?
 What features does it have?
How is priced?
Is it genuine?
Which alternative to BrightEdge exists in the market?
What are its main pros and cons?
What is BrightEdge?
BrightEdge is a well-curated SEO software that is designed to transform your online content into visible business results. The results come in the form of increased traffic, better client engagement, and better revenues. BrightEdge thrives because of a very advanced Artificial Intelligence and machine-learning engine.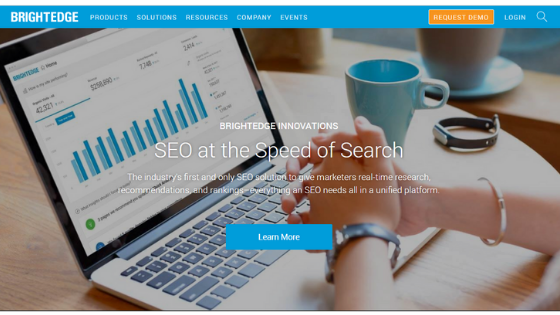 This software effectively crawls the web and scraps through all relevant first-party data, making it one of the very comprehensive programs in this field. BrightEdge can, therefore, help your business, regardless of its size, to achieve the real-time measurement of every single element of digital content management in all your digital channels.
Jim Yu and Lemuel Park founded BrightEdge (the company) in 2007. It finds its superiority over other software programs in the market, owing to the fact that some of the top-notch venture capitalists in the very popular Silicon Valley back it. This company has also managed to grow to the extent that it can handle more than 350 employees who are all distributed in its operating offices in:
–    Tokyo
–    Sydney
–    New York
–    Chicago
–    Cleveland
–    Seattle
–    Foster City
How does it work? 
BrightEdge is unique software, as can be seen in the way it offers value to those who rely on it. As already described above, the creators of this software stick with their clients all through the journey. They help them achieve success by ensuring that the following facets are bearing fruits: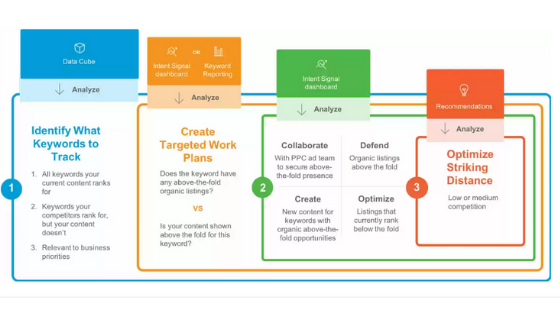 1.    Search – BrightEdge helps you discover what your customers are searching for early enough so that you can plan ahead of your competitors.
2.    Content – BrightEdge creates a defined marketing strategy, which is objective, has the potential to perform and brings you great joy.
3.    Social – this software boosts the results received from all Facebook and Twitter campaigns
4.    Local – BrightEdge helps you bridge the gap between any digital and physical location through the creation and presentation of intelligent content.
5.    Mobile – This software helps you put your mobile customers at the very center of your business, thus winning them over eventually.
Features
BrightEdge is designed to kickstart your journey to success and to keep you winning. This is made possible through the inclusion of tools and features that support your online business processes. The main features that you can benefit from include:
–    Keyword ranking reports
–    SEO performance analysis
–    The ability to share voice reports
–    The tools to manage tasks and workflow
–    Site audit tools
–    Keyword and PPC discovery
–    Backlink tracking tools
Pricing  
Unlike other SEO software providers in the market, BrightEdge does not offer fixed-price plans and packages. It instead offers you a custom plan, in which you get to define which tools you are granted access to. This way, you can spend only the amount of money that you can now, and you make plans to scale up your budget in the future.
That said, however, you could request for a free demo and get a feel of this software. If its tools and features delight you, then you can proceed to order for your custom plan.
---
Is it Legit and genuine?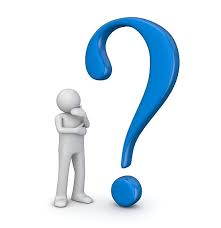 BrightEdge is a genuine software that is run by a company that has a couple of offices in different regions all over the world. As already stated, this company has been in operations since 2007, and this would not have been possible if it was not legit. It would have been shut down owing to the lack of customers, or being snuffed out by the authorities for running an illegal and fraudulent business.
Beyond that, BrightEdge is used by some very popular businesses that you may have already come across or even relied on. These include:
–    L'Oréal
–    UCDavis
–    Twilio
–    Microsoft
–    Adobe
–    Cleveland Clinic
–    Marriott
Again, you can always request for a demo before paying so that you determine for yourself whether this software is genuine and reliable.
Better Alternatives to BrightEdge?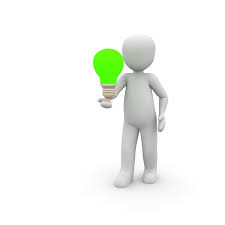 BrightEdge offers you the opportunity to determine the tools that you want to use, and then lets you pay for a custom plan. While this is an excellent approach towards seeing to it that you have only what you need, it may come up as ineffective when you find out that you need some tools urgently and you do not have some money to pay for them instantly.  If you rely on SE Ranking to accomplish your online business analysis and insight tasks, you will have access to a wide variety of tools, at a very affordable fee. Even with the most basic plan, you can still manage to handle a great percentage of your tasks and processes, in a manner that is not possible with BrightEdge.
So you might want to look at SE Ranking if you are looking for a more "budget-friendly" and just as good (if not better) alternative.
However, if you want to explore the most well-known and trusted, and also top-rated alternative then SEMrush is what you want to look at, both offer free trials so you can test them out to see how you like the results they bring.
==> Learn more about SE Ranking on this page
or,
==> Learn more about SEMrush on this page
---
Pros and cons
It might be wise to look at the positive as well as the negative sides and compare them against each other to get a better overall view of something, right? As always in our reviews we provide you with some clear points on both sides o the spectrum:

Pros
–    Offers a custom plan
–    You can request for a demo account
–    Used by reputable brands
–    Excellent customer support
–    Continued support throughout the journey
–    Access to reports

Cons
–    The custom plan you pay for may lack features that you need urgently.
–    Your budget may not be able to cater for all your needs.
---
Do you own or represent BrightEdge?
If you are a representative, or associate of BrightEdge and have found something not to be correct in this review please, feel free to tell and I will make sure to update the info on this post. The easiest way to do it is in the comment section below or by simply sending us an e-mail.
---
Final words and verdict
Verdict: Legit
Overall rating:
(4 / 5)
Ok, I think that sums up the overall view of BrightEdge pretty good. It is a legit tool and not only that, but it is also one of the best ones out there. You have to decide that yourself, of course, if it is something for you. I would recommend that you try it out for free first and see what results you get before you invest money into the paid version.
You made a wise decision to read this review and you are a smart person so I am absolutely sure that you will find the right SEO tool that suits your particular needs the most and that you also feel comfortable and easy to use!

(+ Get a

10% Discount

coupon code on ANY plan you choose)
Or,
---
I hope you found this review of BrightEdge to be helpful and that you now have a better understanding of what it is and it is for you or not. Please, if you have used any of its services then share your experience in the comment section below! Also, if you got any questions about this I will be more than happy to answer them below!
I wish you success!
John,
founder of: Start Make Stop Waste