Today we look at Keywordtool.io. What is KeywordTool.io? How does it work? What is provided to you? Is something for you or should you use other alternatives instead? This is just a few of the main questions this short review will focus on. Ok, with that being said!
Name of the product: KeywordTool.io (Keyword Tool)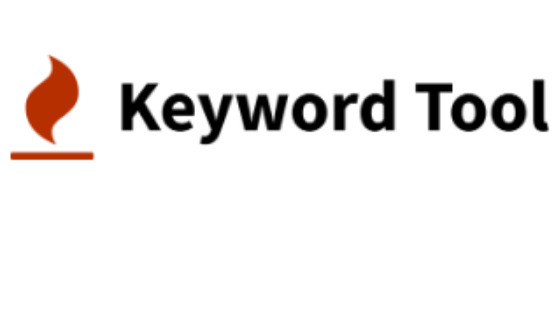 Official Website URL: https://keywordtool.io/
Overall Rating:
(4.5 / 5)
Recommended? : Yes
P.S.
==> Learn about my #1 recommended Keywordtool on this page <==
Intro
Working hard alone does not get you ahead of the pack- you also have to ensure that you are working smart. This is the reason most businesses nowadays are investing heavily in the acquisition of smart tools that will enable them to complete their tasks with the much-desired effectiveness and within the shortest time possible. As an entrepreneur, it is up to you to ensure that you are always updated on the most current trends that are aimed at boosting your effectiveness, or else you lag behind. Which is why I want to bring to your attention a very useful tool known as Keyword Tool.
Without further ado, let me take you through (in that order):
What KeywordTool.io is
How it works
The main features in this tool
Whether you can make money by using this tool in your daily endeavors
An alternative to this tool
Its main pros and cons.
Final verdict
My #1 recommendation (kill 2 birds with 1 stone)
---
What is Keyword Tool?
KeywordTool is a tool that helps you discover a very large collection of the new long-tail keywords that are related to any topic that you may have in mind, by automatically creating Google's search results suggestions. The keywords that you view are usually generated on a Google domain, and in a language that you can select (based on your nationality or current search needs).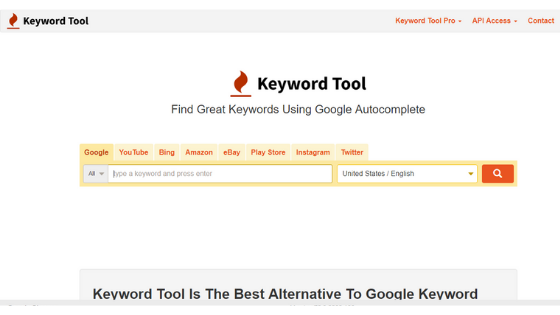 Keyword Tool is, therefore, a very essential tool that online marketers and content creators can rely on to help them find out the keywords that the people visiting their sites are likely to search for on Google. With the right procedures and techniques, these online marketers and content creators can create a successful website that encompasses the needs of those visiting that site.
The creators of Keyword Tool have a proper understanding of the fact that every search that is done on Google is an expression of the needs, wants and desires of those people. This means that relying on a tool like Keyword Tool would to a great extent boost your effectiveness in as far as building your business around such needs, wants and desires is concerned. This way, you end up hitting the nail on the head, by delivering the exact value that is needed.
How does it work? 
As stated above, Keyword Tool is a free online tool that relies on the Google Autocomplete feature to come up with a large number of relevant long-tail keywords based on any topic. The Google autocomplete feature is used to speed up the search operations that are performed by the people who use this search engine. There are a number of factors that determine the suggestions offered by this Autocomplete feature. One of these factors is the popularity of that keyword and other related keywords, based on the number of times people searched for that (or those keywords) in the past.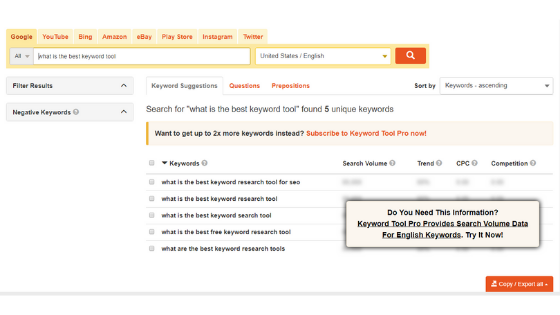 P.S.
As you can see from the screenshot above I didn´t get any data from my free search… so upgrading to the paid version is the only way to get good use of this tool… that was a minus in my humble opinion…
Keyword Tool relies on Google Suggest to create suggestions that are relevant and easy to understand. As opposed to simply giving you short-tail keyword suggestions, Keyword Tool usually gives you long-tail keyword suggestions and pulls them out for you within a very short period.
When using Keyword Tool, you have the freedom to choose a unique Google domain (from the 192 supported domains), and a single language (out of the 83 languages). These will be used to produce the keyword suggestions.
With the free version of Keyword Tool, you can have up to 750+ keyword suggestions created for you within a split second, The advanced version, however, which is known as Keyword Tool Pro, provides twice as many keyword suggestions in comparison to the free version.
Features
The effectiveness of the Keyword Tool in the current world can majorly be attributed to the features that it has. The main features that you can benefit from include:
–    Quality -Long-tail keywords, which are more detailed than the short tail keywords are generated.
–    Speed- Results are displayed within a fraction of a second
–    Quantity- a large number of suggestions are generated.
–    SEO-optimised keyword results- unlike other tools like Google Keyword Planner that generate keywords that are not detailed and are too generic, Keyword Tool only generates SEO-optimised keywords.
–    Effectiveness- Auto-suggest and Autocomplete feature offers you the much-desired effectiveness by automating the search process as much as possible.
Is it genuine?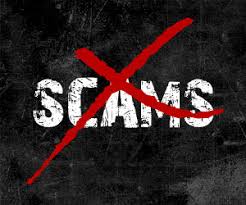 Keyword Tool is a legit tool. It was due to this fact earned the recognition by popular online review platforms and lifestyle-based websites. According to Forbes, (https://www.forbes.com/sites/johnrampton/2015/07/15/the-startups-guide-to-doing-keyword-research-like-the-pros/#a6c5fd446875), this tool is relied upon by leading SEO's to search for long-tail and related keywords.
Forbes is one of the most trusted consumer information websites, hence it is safe to say that we can also trust Keyword Tool based on this review.
On Search Engine Land (https://searchengineland.com/effective-keyword-targeting-210493 ), Keyword Tool is defined as a long-keyword search tool that is capable of providing numerous keyword suggestions from the queries defined by real users. Again, the fact that this tool has been reviewed on Search Engine Land is more reason to trust that it is genuine.
However, I didn´t like the fact that the free version is basically of no use, and that you have to upgrade to really get the benefits…
---
Investment opportunities 
If you are out to make the extra coin through relying on online platforms, Keyword Tool may not help you achieve this objective directly. The only thing it will help you do is to establish the real consumer needs which need to be addressed, and you can then proceed to build a business around that.
---
A Better Alternative?
If you are looking for a tool that will deliver the same effect (or better) as is delivered by Keyword Tool, you can rely on Jaaxy. Jaaxy generates keywords that focus on more than the individual keyword; it also focuses on the themes surrounding that word plus it is less noisy and can even show your rankings for each and every keyword.
Both tools are effective, I would suggest you try out both.
==> Learn more about Jaaxy here
---
Pros and cons 
It is always smart to look at both the positives as well as the negatives and then compare them against each other to get a better overall view of something. As always in the reviews on this site (StartMakeStopWaste) you are provided with some clear points on both sides of the spectrum:
Pros
– Very fast
– Has a free version
-You can also pay for the advanced version to access more features.
-Offers reliable quality and quantity.
Cons
-The Free version will not be enough
---
Do you own or represent Keywordtool.io?
If you are a representative, or associate of the Keywordtool.io and have found something not to be correct in this review please, feel free to tell and I will make sure to update the info on this post. The easiest way to do it is in the comment section below or by simply sending us an e-mail.
---
Final words and verdict
Verdict: Legit!
Overall rating:
(4.5 / 5)
Ok, I think that sums up the overall view of The Keywordtool.io opportunity pretty good. It is a great tool, absolutely. However, if it is the best one out there is another story and in my opinion, it is not, at least not if you are going to use it for Google and the other "main" SERPs such as Bing and Yahoo.
---
Kill 2 birds with 1 stone (Keywordtool + A LOT other benefits)
As mentioned above I recommend another keyword tool that is free to try out, and that you can actually get for free if you sign up for a free account of the online entrepreneur university named Wealthy Affiliate.
So my advice would be to get yourself a free account on WA and in the same time get yourself a free account on my favourite keyword tool Jaaxy (it is included in your membership on WA) and that way get yourself a pair of GREAT resources in your online business.
First of all, it is free for you to try for as long as you want before (and if) you decide if you upgrade to the premium version. Other than that it is super simple to use and start building your online empire with. It is plain and simply perfect for beginners, however, there are many benefits even if you are a seasoned online marketer or SEO expert as well, so if you haven´t already checked it out then I would highly recommend that you do!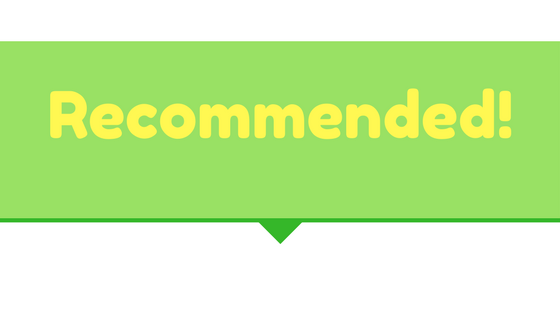 ---
I hope you found this review of Keywordtool.io to be helpful and that you now have a better understanding of what it is and if it is something for you or not. Please, if you have used any of its services then share your experience in the comment section below! Also, if you got any questions about this I will be more than happy to answer them below!
I wish you success!
John,
founder of: Start Make Stop Waste