Today we will have a look at the new release online named ZF Share. So, what is ZF Share about? Is it a scam or a legit opportunity? Can you make money from it? Will it be something for you or not? These are some of the questions this short review will focus on. Ok, here we go!
Product: ZF Share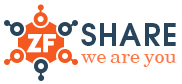 Website: www.zfshare.com
Owner: Faheem Rajpot
Price: Free to join but requires deposit to participate in the rev share side of things.
Who is it for: I wouldn´t recommend it to anyone but maybe for so called rev share enthusiasts
If you know what a revenue sharing program is all about then you also know what ZF Share is going to be all about. It is simply Another one of those Revenue sharing programs that seems to never stop "poping up" online in new versions… In my opinion there is not much difference in them more than different name and different owner.. Sometimes also different "return rates" also…
How does it work?
ZF Share works just like any other revenue sharing advertising program. You buy adpack credits, you assign them and then you need to click 5 ads per day to participate in the rev share the next day.
On the ZF website you can see that they claim to give a return rate of around 2-3 percent per day. However, there is no way to predict this and it depends on how sales go for the website each day.

You can also make Money as a free member simply by clicking ads, this will results in a few cents per day…
So if that is what you are after then I would strongly recommend you to go with another program that pays a lot better for that work and also allows you to take surveys and play games to make money. The most reliable and well know site for that is Clixsense.
Can you make a lot of money?
The answer to this question depends first of all on how long the program will be around. Normally a rev share program like this one tend to crash after 2-4 months. If they survive longer they are named "reliable" and other totally misguiding words.. The truth is that none of any rev share will last forever, there are a very few cases where they have been around for a couple of years but you need to know that when the program "disapears" so does YOUR money…
What I try to say here is that sure you can make some Money.. Maybe even a lot but then you first of all need to "invest" a lot, we are talking thousands of dollars here and when you have done that you also need to pray that the program will not be shut down.. and that can happen at ANY MOMENT!
The thing with rev shar programs is that they would be a scam to a hundred percent if it wasn´t for the case that they have a Product, in most cases (also in this one) the Product is advertising.
So I can not call ZF Share a scam, however I would absolutely NOT recommend it to you, especially if you ain´t got a lot of money already.
So, who would I recommend this program to? Honestly I am sick and tired of all these rev shares that just keep coming AND disapearing all the time. I have had my fair share of them and I am done with that sort of buiness.. The advertising service they offer is not of any good quality either, at least not in my opinion…
However, I understand that there are "rev share" enthusiasts out there ready to take the risk so if I would recommend it to anyone it is for them. …IF they got a lot to money to risk…
Final Words and verdict
Verdict: NOT RECOMMENDED!
Overall rating: 4/10
I Think I have made my Point pretty clear on what I think of revenue sharing programs. They are NOT reliable and they WILL dry out sooner or later.. There are much better things you could spend your money on and I suggest that you stay out of the "rev share world" completely if you want to be safe from headaches…
Want a safe and solid way to make money online instead?
Stop looking for "push button systems" and "get rich quick schemes" as those things simply don´t exists. All of that crap is nonsense and are only playing on the human nature psycology strings that we want a shortcut to all that is good and worth having.
If you want to make Money online in a safe and solid way the way that the biggest earners online do then you need to learn HOW to do it also.
Your answer is internet marketing and there are places to learn this online, you can even get started for free.
The absolute best Place I can recommend for you is:
Hope you found this short Review of ZF Share to be helpful and now you should have a better understanding on what it is and what it is all about. If you got any questions about this Review then I would be more than happy to answer them, so just ask!
Share your thoughts in the comment section below 🙂
I wish you success
John
Founder of: Start Make Stop Waste