I have come across promotions for Power Lead System many times and it is about time, I make a review. What is Power Lead System? Is it a scam or as good as it claims to be? These are the main questions this short review will focus on. Ok, here we go!

Product: Power Lead System
Website: www.powerlead-system.com
Owner: Rob Fore
Price: $30/monthly; $23.95 additional for affiliates
Who is it for: MLM enthusiast
What is Power Lead System about?
Power Lead System is an online lead generating system created by the online marketer Rob Fore. It is a system that will provide you with "the most powerful marketing tools available" according to the site.
How Much Does Power Lead System Cost?
The program got a free trial (and that is something I like). If you later want to continue using it:
If you later want to continue using it: It will costs $30 per month + if you want to promote the program and make money that way you are going to have to pay an extra $23.95 per month.
So a total of $53.95 a month for the whole system.
How Does Power Lead System Work?
The Power Lead System will provide you with training and tools (most of it will be focused on generating leads).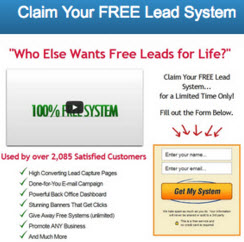 You will get training and tools in these areas:
How to create videos
Implemented Autoresponders
Capture Pages
Training On How To Start Power Lead System Google Hangouts
Sounds like you will have an advantage if you are an extrovert doing this. If you are an introvert it might be some good training in becoming extrovert 🙂 
Making Money With Power Lead System?
Well, it comes out as a program that will help your existing business to make more money (by making more leads) but for making money selli